Sustainability
The University of Northampton Students' Union is committed to ensuring sustainability is embedded in everything we do – in all of our activities, services and facilities.
Consequently, we look to influence others and develop long-term practices through which we can prevent pollution, conserve natural resources and lessen the impact that we have on the local environment. This, in turn, will improve the wellbeing of students/employees, and the prospects of future generations.
Thus, we have an Environmental Policy in place to ensure that our green ethics are found throughout the heart of the organisation and in the actions of our Staff and Officers.
As well as being an active supporter of many ethical and environmental initiatives beyond that which we directly organise, we stock and sell Fairtrade-certified products across our outlets and online, such as branded clothing and wines.
The positive impact we made to sustainability with our actions last year are outlined in the infographic below: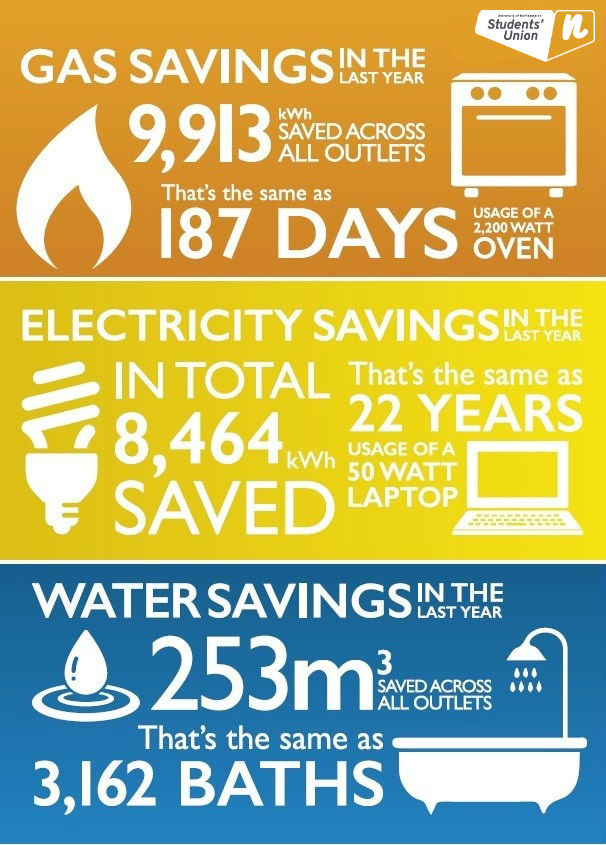 If you would like to know more about Sustainability and the SU we have more information on our Campaigns, on the NUS Green Impact campaign, and tips and tricks to being a Greener Student.