28th November 2019
Tré's Vice President BME Blog (November)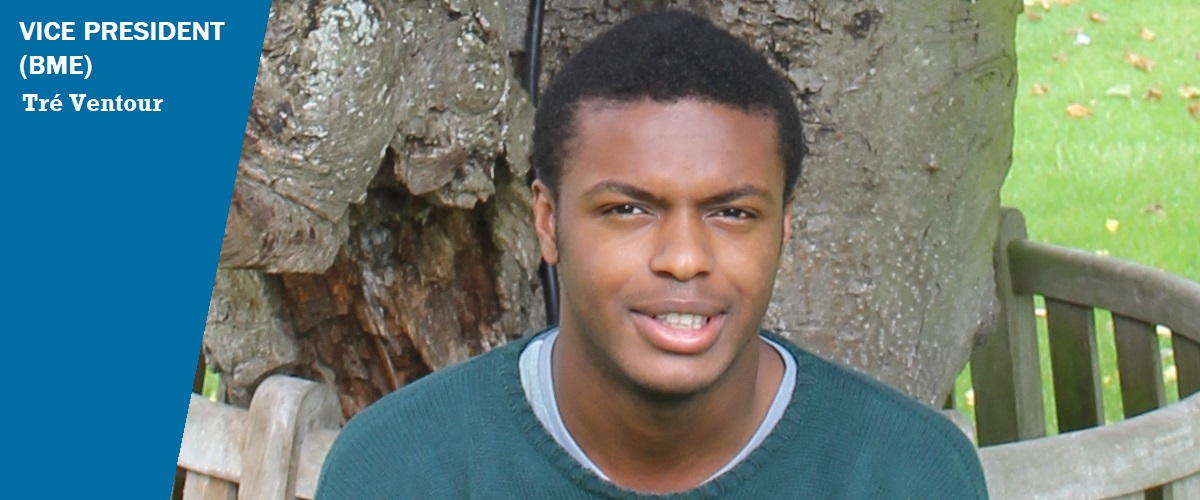 Tré Ventour
28/11/2019
Black History is Everyone's History: It Belongs to All of Us
Throughout industry be it education, healthcare or anything else, it's often fallen people of colour to organise events that fill liberation spaces. i.e Black History Month. Black History Month is a time of year which shouldn't have to exist since Black History is just history. But it still has a function since our stories in Britain are a study in erasure. Black History Month is every month; and in October, I lead / organised a number of events for the Students' Union.
Black History is everyone's history. It's so important but it's been systemically erased by those who write / wrote White history books. And by extension, subjects like colonialism aren't taught much in British schools because — "reasons" (see my article "The Empire Shuts Its Mouth").
What's more, Black British history is often overlooked in favour of the "whiter stories."
Below sits a list of a few of the interesting texts I used in curating the schedule of events for the month(s) of events which will continue through the academic year.
Brit(ish)
"Where are you from?" I am asked on a regular basis. "The UK" I say. "No, where are you really from?" I am then asked where my parents are from. What they want to know is how many generations back did my ancestors come to England. "Why are you brown? My Windrush grandparents came in the 1960s. That's what they really want to know, how I got from here to there.
I'm British and so are my parents. I was raised in Britain and so were they. So why do people keep asking those with brown skin where they're from? It's this idea of indigenousness that has been tied directly to being White.
Brit(ish) is about the day-to-day acts of racism that impact British society. It's about Britain's troubled relationship with its history. It's how some people think refusing to see race (being colour-blind) will inhibit its ability to exist.
Brit(ish) is Afua Hirsch's investigation into her identity and Britain's crisis of self. Britain is a nation in denial about its history and its contemporary issues.
The Georgians were the people of abolition. In fact, after the British stopped trading in slaves, they went out of their way to stop other countries doing it (look up the West African Squadron). Ironically, this was their moral mission, to stop others doing something that they did for nearly three hundred years.
Brit(ish) is a compelling book, an insight into Britain's soul and I certainly recommend it. We say that equality and justice are fundamental British values. But one look at our history, and the last year casts that into doubt.
"Where are you really from?" Honestly, I don't know where I am from but reading this book made me think it's less to do with where you're actually from and more to do with where you think you fit and what you believe.
It's truly riveting and worth every euro I spent at Waterstones Amsterdam!
Babylon
In the wake of the recent Windrush Scandal, this film is so relevant.
Babylon the story of the Windrush and their children. These characters came from Jamaica. Babylon revolves around the racial divides of 1980s London.
In addition to poverty and lack of opportunities for Black people, it discusses racial profiling with the police, employment (or lack of), martial relations and racism from our neighbours. It's as if history is repeating itself.
The 1980s was the era of Margaret Thatcher, spam and White Nationalism. The guns of Brixton sounded in 1981 in the wake of The Battle of Lewisham (1977) and Enoch Powell's "River of Blood" (1968).
The 2010s is the decade of race riots, White Nationalism (still) and PM Theresa May's racist foreign policy she made when she was home secretary.
And as the Windrush crisis endures with its victims still not given justice, Babylon was as relevant in 1980 as it is in 2019.
Black and British: A Forgotten History
Popular historian David Olusoga explores the Black History of this country in the long relationship between Britain and the African continent. Using genetic and genealogical research, original historical documents and testimony from the best in the game, Black and British is a four-part documentary series that goes way back to Romans, the Georgians and through to the present day.
We are taken on a journey; from Britain's global slave-trading empire to Queen Victoria's African protégé Sarah Forbes to the Black Britons who fought at Trafalgar, as well as the Industrial Revolution built on American Slavery.
The documentary series, and the book of the same name, confronts the uncomfortable, what British people would rather sweep under the carpet — slavery, empire and conquest. It shows that Britain's story isn't as White as people think it is. It shows that we didn't only come here as slaves and immigrants. It shows a story woven into the landscape — stately homes, street names, memorials. Stories and tales etched into rock.
Black History is not only for Black people. Black History is everyone's history. It is part of our national story and it belongs to everyone.
Why I'm No Longer Talking to White People About Race
In 2014, journalist Reni Eddo-Lodge wrote a blog post about her anger in the way discussions about race and racism were being led in Britain, by those unaffected by it. It went viral. People longed for open and honest discussion.
In 2018, the now renowned book Why I'm No Longer Talking to White People About Race was published. From erased Black History to politics of White dominance to whitewashed feminism, this is a timely look in how we should analyse and counter racism. And above all, it's a look at what it's like and what it means to be a person of colour living in Britain during the 21st century.
Why I'm is a roar of protest against a racism that has gone on for centuries (overt and structural). It condemns those acts and the enforcers. From whitewashed history to the links between class and race to police brutality and white privilege, it's a guide on race relations in Britain, now and then.
It's a must-read and should be on every keen reader's bookshelf.
Checking Out Me History
John Agard is one of the first poets I read. His poem "Checking Out Me History" dissects Black History, talking about peoples like the Maroons (derived from the Ashanti in Ghana), runaway slaves that built communities giving British colonisers hell, led by the famous Nanny (Nana) de Maroon.
This is one of my favourite poems because it's written in dialect and it's a history lesson without bogging the reader in facts. It's musical and when John Agard reads, it's like being transported back to Africa and the Caribbean.
Additionally, it shows the history we learn in school is so one-sided. Why do we learn that Christopher Columbus discovered America when there were already Native American tribes living there? Why are we taught he discovered the West Indies? What about the Caribs who inhabited my places like Grenada? What about the Amerindian tribes, the Arawaks, the Maroons?
What this says to me is that nothing exists until the White Man finds it. Nothing exists until the European arrives. It's arrogance of monumental proportions.
"Checking Out Me History" is a wonderful poem that everyone should read.
The Black Tudors
A trumpeter plays in the courts of Henry VII and Henry VIII. A Moroccan woman is baptised in a London church. A diver plunges into excrement to attain lost items from the Mary Rose.
These Black Tudors were in the thick of it, in some of the most iconic moments of British history. They were paid wages out of the royal coffers and are part of our national story — Black British history and not a slave in sight!
Black History Month is every month, seven days a week, three hundred and sixty-five days a year. It's a celebration of everything Black people are — race, culture and identity. But above all, passionate kind and beautiful.
"In times of crisis, the wise build bridges while the foolish build barriers. We must find a way to look after one another as if we were one single tribe."
T'Challa, Marvel's Black Panther
Tré Ventour