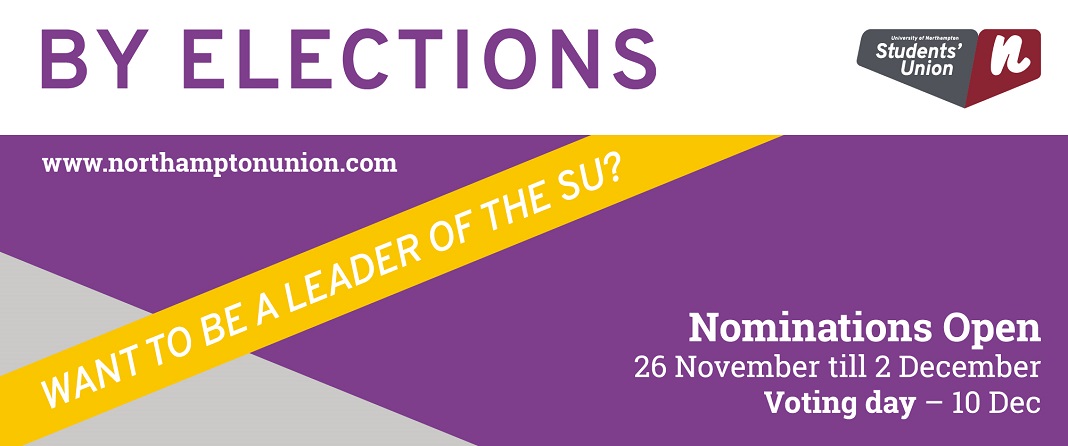 By Elections 2018
Fancy representing the student body, making a lasting change on campus and gaining employability skills that will look great on your CV? If so, then make sure to put your name forward in the upcoming Students' Union's By Elections!
All the information you need regarding dates and positions available is given below.
Key dates:
Announcement – 19 November;
Nominations open – 26 November from 9am, till 2 December at 5pm;
Hustings – 6 December, 5-6pm at the Engine Shed;
Voting day – 10 December 10am-10pm, based at the Engine Shed.
Voting
This can be found and will be done through the SU website.
Positions available
You can check out the roles and candidates in the By Elections below. By clicking on each candidate's name, you can read through their manifesto.
Executive Officers
BME Officer;
Women's Officer;
EU Officer;
Postgraduate Students' Officer (Taught);
Postgraduate Students' Officer (Research);
Ethics and Environments Officer.
Faculty Advocates
Health and Society x2;
Business and Law x1;
Faculty of Art, Science and Technology x1;
Joint Honours 1st year;
Joint Honours 2nd year;
Joint Honours 3rd year.
Mature Students' Association (MSA) Committee
President;
Secretary;
Treasurer;
Social Secretary;
Collaboration Committee Member.
Other SU leadership roles
Student Trustees x2;
NUS Delegates x3; .
Nominations
To nominate yourself for any of these roles, please click this link.
If you would like more information or have a question about the By Elections, please email [email protected].
Our Addresses
Park Campus
University of Northampton Students' Union, Boughton Green Road, Northampton, NN2 7AL
Avenue Campus
University of Northampton Students' Union, St George's Avenue, Northampton, NN2 6JD